Many Webhosting companies are mainly focusing on WordPress because it is one of the most popular content management systems at the moment, It hosts millions of websites around the world. WPEngine is also one of those high-class web hosts which provides hosting for WordPress and boasts good uptime. It has many different features like daily backups, WordPress specific security, and real-time threat detection. It also provides cloud platform flexibility along with other features. There is an enterprise-class managed WordPress plan for which WPEngine is the first choice of any editor. The key feature of this plan is the speed at which you can get your site up and running, however, you will have to get email accounts and domain names from others. Many users have positive WPEngine reviews and this discussion will give you a good idea of how it works.
Let's visit their website to get further information here….WP Engine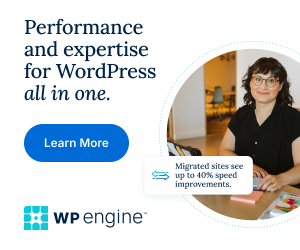 WP Engine's WordPress Hosting Plans:
WP Engine – Plans (With exclusive offer)
Startup Plan:
The startup plan of WPEngine WordPress Hosting has a starting price of $25 per month, which supports around 50 GB monthly data transfers, one WordPress installation, a storage capacity of 10 GB, and 25 thousand monthly visitors.
GROWTH PLAN:
Another WP Engine WordPress Hosting plan is a growth plan. It starts from $95 per month and provides around 100,000 visitors, 200 GB bandwidth per month, and 20 GB local storage capacity and up to ten websites.
SCALE PLAN:
The Scale plan with WP Engine has a starting price of $241 per month; it supports around 400,000 visitors, 50 GB of storage capacity, up to 30 websites, and 500 GB of bandwidth per month.
WP Engine – Growth Plan 
CUSTOM PLAN:
They provide a high-end custom plan which is supposed to help large businesses. It provides around four hundred GB bandwidth monthly, millions of website visitors per month, up-to thirty websites, and up to one TB of storage capacity.
Get 3 months free when you sign up for WP Engine.
To be fair it does not provide cheap WordPress hosting, you must contact WP Engine for inquiring them about wpengine pricing as their pricing is high compared to others. However, it is a high-end managed WordPress host.
It comes with excellent features like CDN which helps provide fast page loading speeds. You can also check site changes easily with WP Engine; it is also easy to transfer and store large amounts of data with their LargeFS software.
One amazing feature with WP Engine is that you can select one of the two options it provides like Google Cloud Platform or Amazon Web Services. As they ensure tight security and enable no downtime scalability which is not bad at all for the wpengine pricing.
If you don't have excessive usage of your website or have a small business then you should consider their A2 category which is coeditors' first choice for small businesses. It has a starting price of $7.99 per month and offers unlimited data transfer along with unlimited storage.
The WP Engine Experience:
WP Engine only offers to host for WordPress plans. So you must consider some other web host for dedicated hosting. Similarly, for VPS you must look elsewhere.
With WP Engine you don't need to install WordPress as it is specially designed for its plug-ins, themes, and more. WordPress is preinstalled with it which makes it easy to use. It is a pleasant experience using it – like viewing your login credentials, opening your introductory email, or getting started without any additional setup.
With WPEngine the Installation and Creation of content are very simple. It is easy to create pages, posts, pages, and galleries. WP Engine automates activities like plug-in updates and daily site backups which further makes it easy to manage it. It uses Evercache (system) technology which combines proxy servers and caching which results in providing fast page loading speed. This makes this WPEngine review more interesting.
However, WP Engine doesn't offer to register domain names neither it provides email facility. So you have to look elsewhere for email and domain names. You can register domain names at any dedicated URL registrar.
Email Marketing and E-Commerce:
WP Engine is a WordPress-based hosting so it makes it simple to use e-commerce tools. Popular plugins like WooCommerce, Shopify, and different other companies are also available.
You can use different email-marketing tools like Drip, Mailflow, and DirectIQ.
Security Features:
Website security is so important these days especially if you have an e-commerce website. WP Engine provides one free SSL certificate which secures the data sent from the customer's system to your website.
With other Webhosting providers, SSL certificates are not free. WP Engine not only provides a free SSL certificate but it also does daily malware scans. It also has a firewall that is daily updated to help secure your site by blocking new threats. Not just that it offers free hacking remediation by experts, real-time threat detection, and enterprise-grade firewalls.
Excellent Website Uptime:
Website uptime is vital for getting online success if your site is down you will lose many potential customers; luckily you get good uptime using WP Engine as they take it seriously.
Some of our experts have tested WP Engine, They found that it was stable as it never went down once during the two weeks.
Customer Service:
Our experts also tested their customer service, They contacted WP Engine customer support several times during the test. We wanted to check their effectiveness and thankfully it didn't disappoint us. We also enquired about the installation of WordPress Themes and SSL which they answered accurately and quickly. So we concluded that it is one of the best Webhosting for WordPress plans.
Unfortunately, the 24/7 telephone support is not available for the startup plan; so you have to be at least a Growth subscriber to get this WP Engine 24/7 toll-free support. You are limited to 7:00 am to 7:00 Pm (CST) hours. However, a 24/7 live chat support is available for a Startup customer.
WP Engine also offers a sixty days money-back guarantee which helps users to test their services for two months.
Best Webhosting for WordPress:
WP Engine offers powerful hosting for WordPress which is supported by a great customer support team. It also has cloud platform flexibility, reliable uptime, and many other features which makes it the best Webhosting for WordPress.
We highly recommend WPEngine specifically if you are creating a website with WordPress.
However, for the domain names and email account you have to turn to other cheap web hosting WordPress companies and the Starter plan lacks 24/7 phone support.
A2 is a great feature which is liked by many Editors is available with WP Engine. It helps small businesses and does not require enterprise-class WordPress hosting.
Moreover, WP Engine helps you to build a website and set the basics of getting started online.
We have briefly discussed the pros and cons of WPEngine below to help you make a better decision if you are looking for cheap Webhosting WordPress.
PROS:
Best Webhosting for WordPress:
 Wpengine Plans provides an excellent uptime along with daily backups. Realtime threat detection is also provided by WP Engine, it has a useful staging area which makes it second to none in specific cheap Webhosting WordPress. WPEngine also provides good customer service and also the facility of choosing Google Cloud Platform or Amazon web Services.
Managed WordPress hosting, perfected. 
CONS:
WPEngine provides no email and limited phone supports. It also doesn't provide the facility of selling domains which makes it less user friendly, but overall we think it is a good WordPress hosting service.
Although there are few cons with WPengine the positive WPengine reviews are more than negative so therefore we recommend you to go for this cheap web hosting WordPress. Generally, the WPengine pricing is not too cheap but they provide reliable and efficient service, therefore we can consider it as the best web hosting for WordPress.
Click on this link: WP Engine – Homepage

Reviews
There are no reviews yet. Be the first one to write one.